By monitoring over 2,000 blog posts, every update by Google, Yahoo, Bing, Facebook, Twitter, Pinterest, Yelp & Local Search, and testing the results from a network of 100's of researchers, Planet Ocean turns the flood of search engine marketing noise into an average of 20 need-to-know, unique changes and adjustments that effect your SEO, SEM, Social Media, and Web Marketing efforts. This filtered data is assembled into a tidy report, delivered to you promptly on the 1st day of every month. In 17 years, Planet Ocean has never missed a publishing deadline.
What Planet Ocean Customers Say
Clay C. says, "Words cannot easily describe my gratitude. Your SE guidance literally changed my LIFE and the well-being of my entire family. After 5 years of marketing attempts using other people's strategies, I was still broke, desperate and bankrupt. But with your help, for several years now I've enjoyed a six-figure income from an entirely Search-Engine-driven, online business on total auto-pilot. And now that I live with multiple sclerosis, you can easily understand how important this revenue is to my family. I offer a thousand thank you's for work well-done and for your contribution to our security in business and in life."
Gabe K. says,Your book is INCREDIBLE! My boss just assigned me the special project of getting our website the best possible listings in the search engines and I was clueless as to how I would go about doing this – until I read your book. After reading this masterpiece, I feel like I could get any company into the top ten listings of the major players in the Search Engine industry. Thank you, thank you, thank you – you've saved me hours upon hours of legwork and I appreciate it so much. Your insights and information are priceless.
Steven S. says, I can not imagine being on the web and not having the information you provide. Thank you for all of the help you have provided for my business. I never would have guessed that a Construction company could have benefited from a web site as we have. As a small contractor specializing in high end remodels and additions we put up our site as an on-line brochure. With the help of your newsletter, we received nearly 1 million dollars in jobs directly from the Internet last year. Needless to say, this cowboy is a believer. Thanks.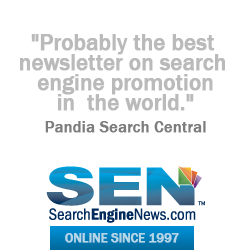 Patrick O., founder of MatchMaker.com, says "we just sold for 45 million dollars. One of the many things that helped build MatchMaker to 200 million page views per month was the techniques I learned from your publication."
David S. says, "I would say I am definitely ahead of the search engine marketing industry …But this is the first publication of information that I have seen that is accurate. I can't tell you what a great job you guys have done of putting this resource together. Thanks so much."
Jason B. says, "I would like to say to all current members of SEN, I joined in 2000, over 14 years ago… They have literally made my career, I would recommend to everyone."